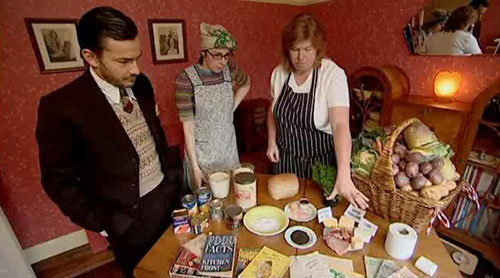 Last year, a very interesting hour-long program(me) called Edwardian Supersize Me [1] aired on BBC Four. Taking their cue from the hit documentary Supersize Me, Giles Coren [2], food critic for The Times, and writer/actress/comedienne Sue Perkins [3] spent a week eating as the middle-class Edwardians did - meaning a lot. The pair are back, upgraded to BBC Two, in a new multipart series called The Supersizers Go…. The premise is the same as Edwardian Supersize Me - in each show Sue and Giles spend a week eating as people did in a certain historical era. The first episode aired last night, and the era was World War II.
The Supersizers Go… is a bit more jokey than Edwardian Supersize Me was, but just as fun and informative. Giles and Sue have gotten used to each other it seems, and are are lot more comfortable with each other. The visual details were great - they found a typical 1930s semi-detached house, decorated it inside as it would have been in the 1940s, and both of them dressed in clothing of the era. I could have done without the scenes of Sue chomping on grass and the like, and perhaps the tone was a bit too lighthearted for a period which was probably not much fun at all. Still, these are minor quibbles.
The most interesting part for me of course was look into how people ate during the war. I already sort of knew that food was strictly rationed then, especially things like sugar, fats (butter in particular), meat and eggs. What I didn't know though was that people were required by law to "eat up": it was even a crime to waste food, and some people even went to jail for it! Imagine if that were the case now - most of us would be spending some time behind bars.
The government sent a lot of instructions on how food was to be eaten. There was something called the National Loaf, made with "more of the grain than white bread"; it was fortified with calcium and vitamins and was required eating. It was dry and grey, and was nicknamed Hitler's Secret Weapon. There was also something called Special Margerine included in the weekly rations, also laced with vitamins. Vegetables however were not rationed. People were encouraged to Eat for Victory. And there were those infamous dried eggs, imported from America.
To supplement the rationed food, the British people grew tons of vegetables in their gardens (encouraged to "Dig for Victory") and resorted to foraging in the wild for things like nettles and snails. A black market also sprang up for forbidden foods. Housewives desperate to liven up the table also resorted to a weird range of foods that pretended to be something else - Mock Duck formed from sausage meat, Mock pies, and more. (The Mock part reminded me somewhat of the tendency of some current day vegetarians to try to make Mock versions of meat-based dishes…Tofurkey anyone?)
It seems that food served at designated British Restaurants, initially set up to feed people who had beem bombed out, was not rationed, so eating out became very popular.
Generally though, people ate a lot of carbohydrates, especially potatoes and National Loaf; much less fat and meat, and tons of vegetables - though it seems prepared in ways that sound rather awful from a modern perspective. The most famous wartime recipe was something called Woolton Pie, made by cooking equal parts of potatoes, cauliflowers, carrots and swedes (large turnips) with water and 'vegetable extract' (I assume this is something like Marmite) with water to a mushy state, then topping with a potato or whole wheat (wholemeal) pie crust. On the show Sue did most of the cooking, guided by chef and nutrionist Allegra McEvedy (who's also one of the Guardian Word of Mouth bloggers [4]), though Giles did step into the kitchen when the American G.I.s (bearing nylon stockings as gifts of course) came to visit and whipped up some horrific sounding cake that used paraffin as the fat.
The result of this kind of eating was that by the end of the war, the British people were much healthier than they had ever been - and probably a lot healthier than current day Brits. After a week of WWII eating, both Giles and Sue lost weight and improved their overall fitness indicators. This is probably why there are some calls to return to a 'wartime diet' (most prominently from that improvement-minded guy Jamie Oliver [5]).
In any case, the first episode was The Supersizers Go.. was a lot of fun, and I'm looking forward to the rest of the series. Next week's historical era is the Restoration. Looks like Sue and Giles will be imbibing a lot of alcohol.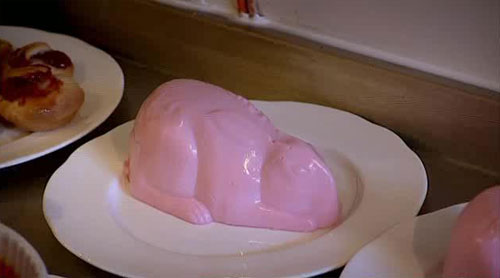 Links
Disappointingly, the Beeb haven't set up a dedicated site or even a page for the series as of yet. I hope they will, because I really wanted to read more about the subject. In the meantime here are some related sites I've found:
A list of the foods and recipes mentioned in this episode
Breakfast:
Wheaties (made from stale bread cut into cubes and dried in oven)
National Loaf (nicknamed Hitler's Secret Weapon)
Scrambled eggs (made with powdered dried eggs imported from America; only one real egg per week per person allowed in rations)
Tea
Dinner:
Woolton Pie
Oatmeal Sauce
Raw Cabbage Salad
Sherry
Beer
Giles on night watch:
Spam sandwich (can of Spam on National Loaf bread)
Sue's midnight snack:
At the British Restaurant (John Lewis' staff canteen - bananas seen there were strictly forbidden during the war):
Skilly (a much hated soup)
Cottage Pie
Carrot and Swede
Apple Crumble
Mock Dinner:
Mock Crab with Mock Mayonnaise (margarine, dried egg, vinegar, cheese, salad cream)
Mock Duck (sausage meat, onion, grated apple, sage, shaped into a duck)
Mock Apricot Tart with Mock Cream (grated carrot, almond essence, plum jam; cream is made of margarine, sugar, flour)
Mock Coffee
Lunch with the G.I.s:
Sue's face painted with beetroot juice
Sue's legs painted with gravy (to simulate stockings)
Lettuce and Margarine Sandwiches
Mock Hamburgers
American Pinwheels
Lemon Sponge (made with paraffin in lieu of butter)
Custard
Ersatz Coffee (roasted chicory and dandelion root)
Nylons and a can of pineapple given by the G.I.s to Sue
Winston Churchill's wartime lunch (he didn't ration himself, apparently):
Native Oysters
Petite Marmite (a soup)
Roast Venison with Mushrooms
Ice Cream and Raspberries
Stilton
Apples, Grapes and Walnuts
Pol Roger Champagne
Chardonnay
Claret
Port
Cognac
Cigars
Foraging in the fields lunch:
Snail and Nettle Consommé
Rabbit Casserole with Ear Fungus
Steamed Alexander Bracken
Sunday lunch:
Snoek Piquante (snoek was a fish imported from South Africa)
Braised Sheep Hearts (hearts obtained on the black market)
Wartime Trifle
Sherry
Red wine
Supper in the Tube (sheltering from the bombing):
Cheese and Crackers
Turnip Soup
Wartime Sausages (3% meat)
Cocoa
Victory Lunch (a party after V-E Day):
Victory Scotch Eggs
Pilchard Sandwiches
Cheese Dreams (cheese and beetroot sandwiches fried in margarine)
Mock Banana
Fish Eyes and Goo (tapioca custard pudding)
Jam Tarts
Rabbit Blancmange
Orange Squash Jelly
Toffee Carrots (unpeeled carrots on sticks dipped in melted sugar)
Honey Chocolate
Carrot Fudge
Patriotic Pudding
Eggless Victory Cake (with lots of icing made with black market sugar)
Onions as raffle prizes (onions were in very short supply)
Supersizers Go recaps