Because Maki went under the knife last week, an understudy (yours truly) was sent to London for an interesting event. Here's part one of my trip report.
Mobile device companies, such as Nokia, are gradually discovering the value of bloggers as a customer base. As part of a targeted event, JustHungry was invited together with other selected bloggers to spend a few days in London, where we could test the newest in mobile phone technology in practice.
Besides JustHungry, the following blogs participated:
The whole group stayed at the Zetter [8] Hotel in Farringdon, a typical London boutique hotel close to some interesting restaurants and pubs.
The first day was set up as a workshop, in the private dining room of the Larder restaurant, where we first got introduced to the "tools of the trade" and their use. I use a cellphone every day, and I'm the type of geeky person who actually reads through the manual, but I still learned some interesting things. The second part of the workshop started with a (rather Brit-centric) food quiz with freelance journalist Sudi Pigott. This was followed by an hour of interesting London gastro-gossip and tips by food writer Joe Warwick, whose articles have appeared in the TimeOut restaurant guide and many other publications.
An evening at the Northbank restaurant gave us a taste of the higher end of British cuisine.
The highlight for me was on the second day, a discovery tour of the famous Borough Market with Celia Brooks Brown [9] whose gastrotours are well known, concluded with an all-British meal at the Roast [10] Restaurant.
The following pictures show some impressions of the event. All the photos, incidentally, were taken with a mobile phone, under a variety of lighting conditions, and I think they look surprisingly decent. For this trip I deliberately didn't take a bigger camera with me, wanting to give the mobile phone cameras a workout. (I do take many of the photos that appear on JustHungry by the way, especially outside of the 'studio'.)
The one snag I ran into was that on the last day both of the two cell phones I had with me ran out of battery power right in the middle of a shooting session. So, if you are relying on a mobile as a dedicated shooting device on a trip, extra batteries might be a good idea.
On with the photo report.
Everyone is very active with their mobile devices.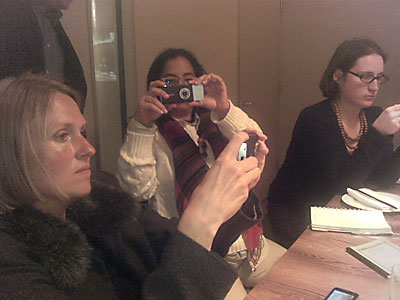 Fish and Chips at the Larder.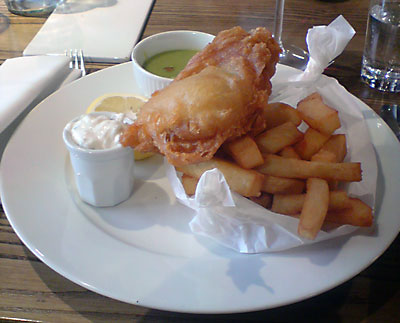 Joe Warwick in full action.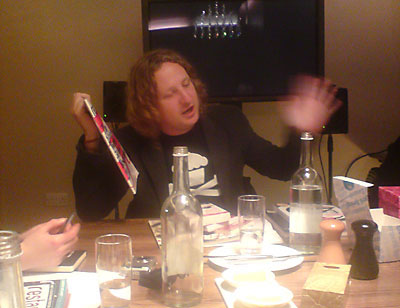 The St. John Pub and Bakery is near to the hotel; it is in a former smokehouse.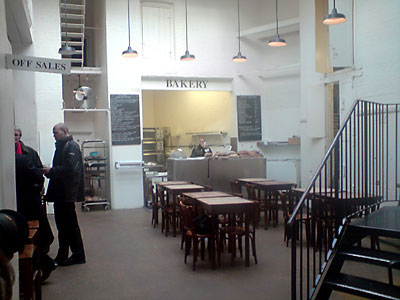 The Zetter hotel in an early spring evening light.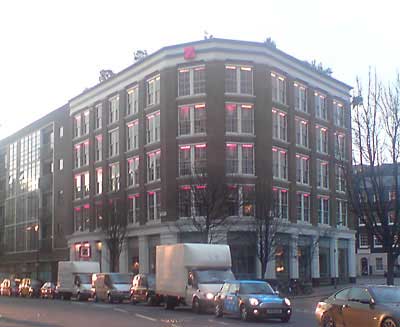 Celia Brooks Brown shows a giant avocado at the Borough Market. (A more in-depth look at the Borough Market will follow in a separate report.)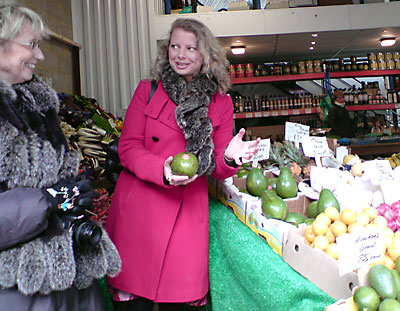 How to spot a mobile food blogger!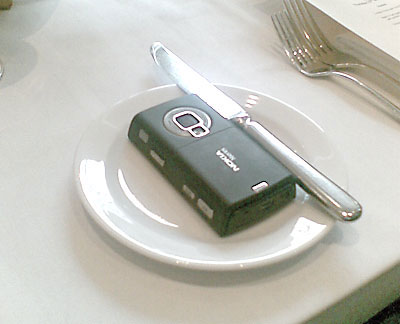 A gigantic slice of celeriac at the Roast restaurant.