nabe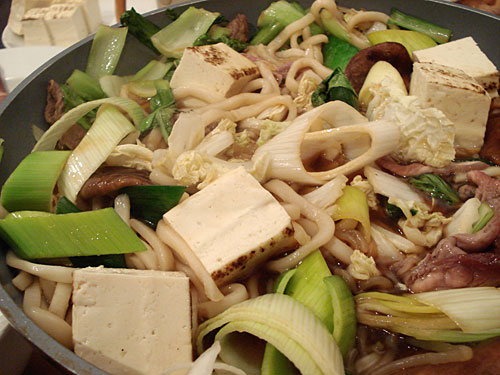 Sukiyaki (すき焼き)is a Japanese word that is widely known outside of Japan, but very few people have actually had the real thing unless they've been invited to a Japanese person's home for dinner - or gone to a traditional inn or ryoutei (high end traditional Japanese restaurant) where it is cooked for you at the table. This is because, like tori nabe, this is really another nabe that is cooked at the table, at home, rather than eaten at a restaurant. You may encounter 'sukiyaki' on some restaurant menus, but if it's been cooked in advance in the kitchen, it really isn't sukiyaki. (I'm not sure why there are dedicated shabu-shabu restaurants but no sukiyaki restaurants, but I think it's because sukiyaki is so strongly associated with home cooking.)
Unlike tori nabe, sukiyaki is not inexpensive, since you need top grade steak-quality meat. If you have access to a Japanese grocery store or a butcher that is familiar with the 'sukiyaki' cut, you can buy ready-cut meat there. (In New York, I used to get sukiyaki meat from Schaller and Weber on the Upper East Side). If you can't get sukiyaki meat, get a piece of sirloin with a good amount of marbling and a thick piece of fat attached. Allow for about 100 grams / 3 1/2 ounces of meat per person. You do not need to use wagyuu or Kobe beef - that would be overkill. In Japan, sukiyaki is the quintessential gochisou (御馳走) - feast or treat, because good beef is the most expensive kind of meat. It's what you have for a special occasion, or just after payday.
Sukiyaki can be enjoyed at any time of the year, but any kind of nabe seems to be best suited to the winter, when the family can gather around the dining table helping themselves from a fragant, steaming pan of food.
There are two basic methods of making sukiyaki: Kanto, or Tokyo-area style, and Kansai, or Kyoto/Osaka area style. Since I'm from the Tokyo area I'll show you how to do the Tokyo style, with a recipe for the Kyoto method below. continue reading...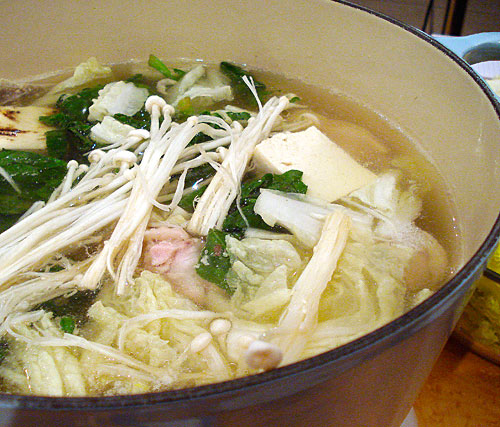 Nabe (鍋, pronounced NA-beh) is the Japanese word for a pot or pan. But it also means a one-pot dish where several ingredients are cooked together in a broth. While nabe can be cooked in the regular way on the stovetop, the most popular kind of nabe are cooked at the table on a portable burner. The quintessential image of a Japanese happy family is one that gathered around the dining table eating a nabe. (Nabe cooked at the table is also called yosenabe (寄せ鍋), which just means a nabe where the ingredients are gathered together (寄せる、yoseru). Because a nabe is piping hot, it's a great winter meal, with very little preparation.
A lot of Japanese nabe recipes call for ingredients that are only widely available in Japan, but this is a recipe for a nabe that you can recreate wherever you are. It uses chicken and a lot of vegetables, so it's very healthy and frugal - perfect recession cooking! The only special equipment you need is a tabletop cooker of come kind, that can sustain a boiling heat. See more about tabletop cookers in the Notes at bottom. continue reading...