bacon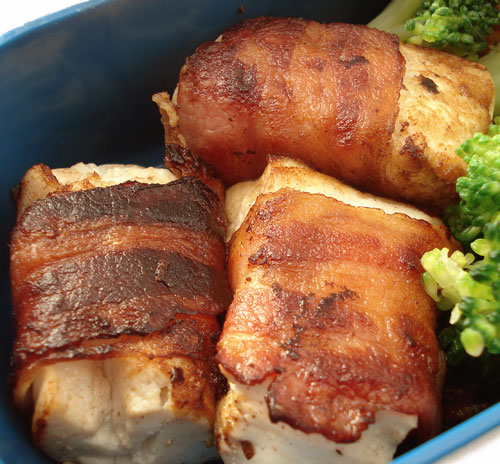 Bacon. Tofu. Two proteins on the opposite ends of the food social scale. One is revered, serenaded, hailed as the food of the Gods. The other is reviled, sneered at, as being bland, boring, even disgusting.
When I saw this conflict depicted as bendable figurines (via Serious Eats) I had to do something to end this conflict.
The only reason why tofu is put down is because of its mishandling by well meaning but unskilled cooks who focused only on its healthy benefits. There are plenty of Westerners who hate tofu, but you'd be hard put to find many Asians who do. That is becase in eastern Asian cuisines, tofu is infused with other flavors, as it should be.
So, back to the bacon and tofu. This is actually not an uncommon dish in Japanese households. It's called either just bacon tofu (or tofu bacon) or even bacon tofu steak. The salty bacon-ness of the bacon infuses the bland tofu, and the two marry together to become a tasty morsel that's good hot or cold. It's salty-crispy on the outside, soft on the inside. (Yes, it's good for bento, and it will feature in one shortly.) continue reading...